Generational skincare, part 1: Establishing good routines in your 20s—a TikTok-famous skinfluencer on avoiding 'aggressive products'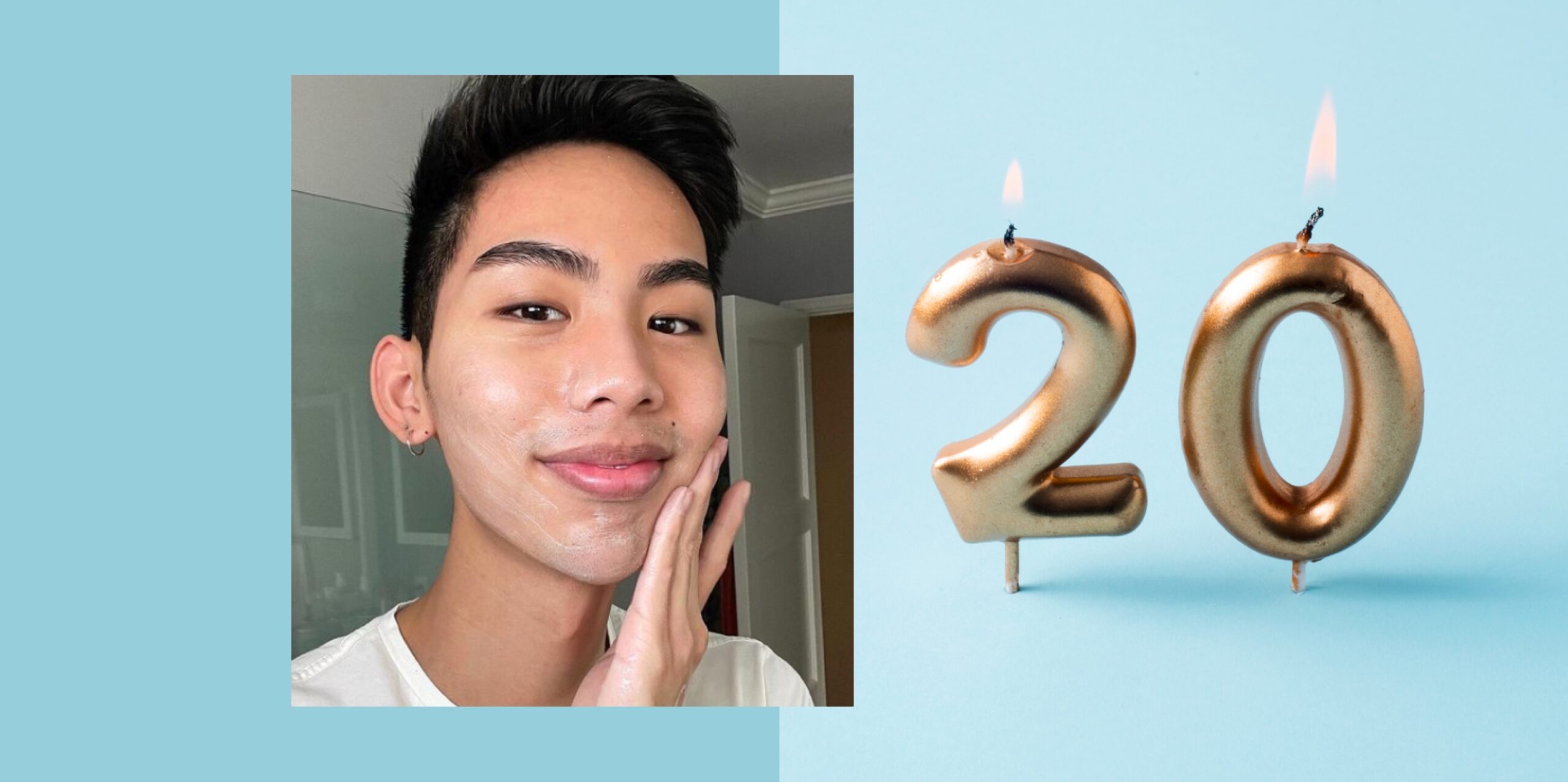 Welcome to our series for skincare by generations, where we look at regimens, products and ingredients for the many phases of life, featuring real-talk advice from skinfluencers of all ages.
Meet Gen Z skinfluencer Roger Ma, aka @Rogerwh0 on both Instagram and TikTok, where he has 24.7K and 595.8K followers, respectively. The 23-year-old Pasadena, CA native skyrocketed to TikTok fame dishing about everything from "ugly moisturizers," to double-cleansing, to products that are not worth your money. Here, he gives exclusive perspective on why he believes twentysomethings should invest in skincare—because it's also investing in their future.
How did you first get into skincare?
Ma: Well, I'm Asian after all, so growing up I saw my grandma and mom doing skincare. But I really honed in on my interest when I started a Korean beauty internship [with an agency based out of Seoul] when I was in my junior year of college at UC Riverside.
You got your start as a skinfluencer during what you called the "TikTok Renaissance" at the start of COVID, after posting product reviews. What would you say is the best part about being a skinfluencer?
Ma: The best thing and the most challenging parts are the same—the products. I love being able to try different skincare products, especially with innovation at an all time high. There's so many new brands and technologies we haven't seen before—I love trying them all. On the flip side, the most challenging part is that I have to test so many formulas on my face, because I want to give every product a fair trial. There's just so many and sometimes it's overwhelming.
How long do you recommend people try a product for, to give it a fair assessment at results?
Ma: It depends on the product. With cleanser or moisturizer, maybe after using it five times I'll be able to formulate some thoughts on it that I'm willing to share with my audience. For something like a serum or an eye cream—formulas with actives that are going to help with acne or hyperpigmentation—I'm definitely using them for at least a month to two before I share my thoughts on them.
Walk us through your morning skincare routine. Do you consistently use the same products?
Ma: The products change, but in terms of the steps and what the product categories are, they usually stay the same. I actually don't cleanse and just rinse with water in the mornings, and then I go straight on top of my damp skin with a hyaluronic acid serum. I then follow with a vitamin C serum, moisturizer and SPF.
What about your nighttime routine?
Ma: After double-cleansing with an oil cleanser and a water-based cleanser, I use a hydrating toner, followed by a barrier serum. My skin goes through a lot trying all these products, so I always have to have something to help my skin barrier. Then I use a salicylic acid serum or just any acid serum that helps keep my acne at bay. I am so bad with eye cream, but I try to use it every night, followed by moisturizer. Most important is my GrandeLASH serum—it's amazing for helping my sparse lashes and brows grow in.
How has your skin changed from when you were a teenager to today?
Ma: When I was a teenager, I was more acne-prone. Actually, I can't tell if I'm the same amount of acne-prone, or just better at skincare because when I was in middle school, I was using random products from anywhere and I was like, "Why am I still breaking out?" I was definitely more oily when I was younger, especially in college. My skin was horrible. That's when I first started my TikTok page—I was still in my senior year. My skin wasn't good so I was confused when people started following me for skincare advice. I've learned so much on this journey of being a skincare influencer—I've been able to find the products that have been truly right for me. I'm proud of how I've progressed, not only in my influencer career, but also my skin itself, compared to when I started two years ago.
What would you say is your best skincare hack for people in their 20s?
Ma: I totally underestimated the impact of hydration. I was focused so much on actives that I was wanting to use to get rid of my acne or brighten that I wasn't focusing on hydration. I slowly realized that hydration is the basis of a lot—it helps with getting the skin barrier healthy, which in turn helps with clearing up acne and hyperpigmentation. People in their 20s don't need to be focusing on aggressive anti-aging products. Just making sure that you're hydrated really helps plump up fine lines and prep your skin for when you do start using anti-aging products later on.
What's the best skincare advice you've received?
Ma: My mom always taught me to invest in myself, including my skincare—that's why I buy expensive skincare products. When you start in your 20s, investing the time and money on a skincare routine that works for you can have really long-term benefits. But if you haven't started and you're past your 20s, that's ok, too! People always act like "oh my gosh, I'm late, I'm already past my 20s," but I don't think it's ever too late to start a skincare routine.
Lastly, we need to know—what are your top five products in your vanity at the moment and why?
My number one is going to have to be a pigmentation-correcting night serum. I thought it was just going to be another expensive acid serum, but it's not—it's been great for not only helping control my acne, but also with healing my post inflammatory hyperpigmentation.
A lotion that I will continue replenishing is from this indie Korean brand called Rovectin. They have this product called Skin Essentials Activating Treatment Lotion. It's kind of like a toner essence. I love the consistency, and it's so great at hydrating my skin, but also strengthening my skin barrier.
The consistency of OSEA's Hyaluronic Sea Serum is the best. When you put it on your skin, you can feel it—like it has a presence. You feel like you actually have a layer on your skin, which I love.
I started using GrandeLASH lash serum on both my lashes and my brows and they've never looked fuller—I'm so happy!
Murad's Clarifying Cleanser has 1.5% salicylic acid, which is great to integrate into my cleansing routine. Whenever I use it, I like to leave it on my skin for a minute or two until the suds dry up—just because I want to make sure that salicylic acid has some time to clean and get into my pores, then I'll rinse it off. My cleansing routine is a whole five minutes!
More in the generational skincare series here:
Embracing your 30s—a triple board-certified derm reveals the 2 things that will forever have an impact on skin and much more
Juggling impossible schedules in your 40s—a model/creator/mom explains why you need to be unapologetic about skincare
Truly living your best life in your 50s—a fitness creator on tanning with baby oil (gasp!), skipping eye cream and her holy grail product