Ingestible skincare ingredient: Grapeseed oil—the only ingredient you need on your supplement shelf for radiant, even skin?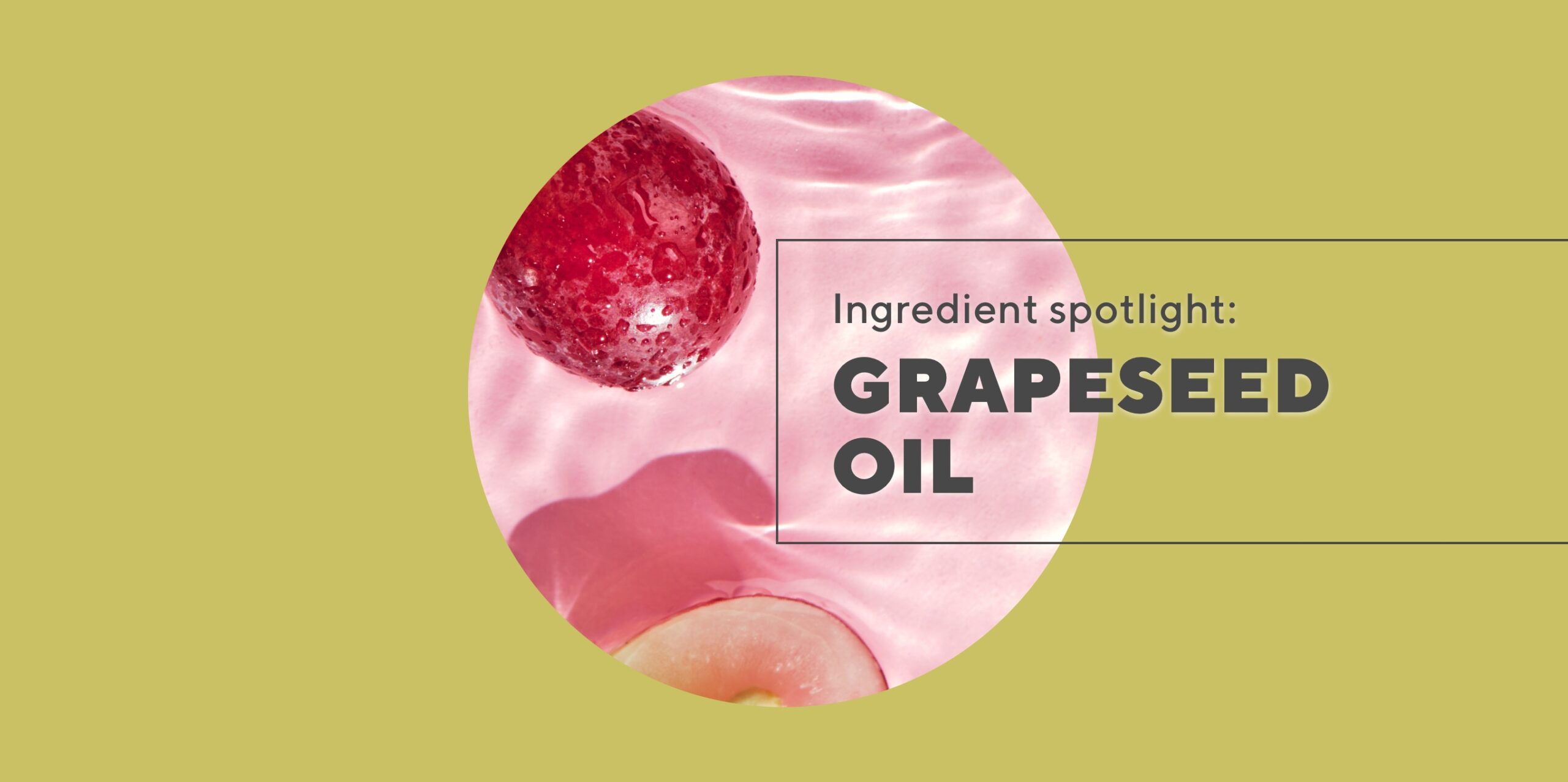 Humans have long used grapes to tap into the very best life has to offer, from relishing vitamin-rich dolmas swaddled in grape leaves to using their skins to make Dionysus' favorite libation (red wine). But if there's one part of the grape whose impact far exceeds its size, it's the grape seed.
Grapeseed oil is an extract made from this part of the grape. Loaded with nutrients, healthy fats and impressive antioxidant properties, grapeseed oil may be one of nature's best-kept secrets for achieving skin that glows from the inside out. Here, we explore how grapeseed oil can help you land brighter, smoother-looking skin.
What is grapeseed oil?
Grapeseed oil is a plant extract made by compressing the oil housed in the seeds of grapes.
Each tiny grape seed is composed of approximately 8 to 20% oil. The precise nutritional constituents differ between grape varietals, extraction method and environmental factors. Nevertheless, every grape seed is loaded with a potent roster of bioactive ingredients that work in tandem to produce a made-for-skin cocktail to combat skin concerns like hyperpigmentation and dull-looking skin:
Vitamin E: Grapeseed oil is a veritable reservoir of vitamin E, containing up to 53 mg per 100 grams of oil. This antioxidant helps prevent sun damage, boost hydration and reduce inflammation in the skin.
Fatty acids: Grapeseed oil is a potent source of unsaturated fatty acids, which your body relies on to enable vitamin absorption. Grapeseed oil is particularly rich in polyunsaturated fatty acids (PUFA), which can help improve skin appearance and function. Most grapeseed oil contains between 85 and 90% PUFA.
Phenolic compounds: Found in many fruits and vegetables and one of nature's most powerful antioxidants, grape seeds are chock full of phenolic compounds. And, they have even more of an antioxidative punch than grape skins, grape flesh and wine.
4 benefits of grapeseed oil for skin
Grapeseed oil has the potential to touch nearly every system of our body, but it may have the most visible impact on our skin.
01
More glow
Skin brightening ingredients and products, like vitamin C serums, have an unwavering fan base, but most people don't know that grapeseed oil is a powerhouse brightener in its own right.  
Grapeseed oil (like phytoceramides) is rich in polyunsaturated fats, a type of fat that your body can't produce on its own and needs to supply through diet. 
Fortunately, grapeseed oil has this type of good-for-you fat in spades and can help with dryness, scaling, loss of hydration and dullness. What's more, grape seeds' high fatty acid content enables your skin cells to absorb vitamins more easily—including that mega-boost of vitamin E acquired through grapeseed oil. 
02
More even skin tone
Grapeseed oil houses many types of antioxidants, but researchers believe one in particular can help to create a more even skin tone. Proanthocyanidin (OPC) is a type of tannin with potent antioxidative properties. In one study, subjects with melasma (a type of skin hyperpigmentation) who ingested OPC-rich grapeseed oil for 6 months saw a considerable, measurable improvement in of skin discoloration. 
If you deal with hyperpigmentation or an uneven skin tone, consistently taking a skincare supplement with grapeseed oil may help to put you on the path toward erasing discoloration and achieving smoother-toned skin. 
03
A boost of solar protection
Grapeseed oil can be a venerable ally for offering an extra enhancement to our sun protection protocol.  
UVB absorption

: Vitamin E has been shown to screen and absorb UVB rays, lowering the inflammatory impact sun exposure has on our skin.

 

Free radical defense

: Studies show that the OPCs in grapeseed oil act as free radical "scavengers" that hunt down skin cancer cells, eliminate them and offset the potential growth of skin tumors.

 
04
More resilient, youthful-looking skin
Not only may grapeseed oil's antioxidative properties help to slow the aging process, but its antimicrobial influence can serve to pare down the amount of stress loaded onto our skin. And, since this natural oil can be great at locking in moisture, it can encourage skin elasticity, thus helping in healthy aging skin.
Grapeseed oil is also non-comedogenic and doesn't clog pores, so it's beneficial for any skin type, including sensitive skin and acne-prone skin.   
By combatting our skin's overall stress levels and providing for our body's antioxidant needs, grapeseed oil may enable us to keep our skin in vibrant, youthful condition for longer. 
The views expressed in this article do not necessarily represent the views of Murad, and are for informational purposes only, even if the advice of physicians and medical practitioners are included. This article is not a substitute for professional medical advice, diagnosis or treatment, and should not be considered specific medical advice. 
References for this information:
Nutrition and Metabolic Insights, 2016, volume 9, pages 59-64
Oregon State University Website, Micronutrient Information Center
Journal of Cosmetic Science, 2006, volume 57, issue 6, pages 465-473
Cleveland Clinic Website, Nutrition
Phytotherapy Research, 2014, volume 18, issue 11, pages 895-899
Molecules, 2020, volume 25, issue 22
wellconnected.murad.com/wp-admin/post.php?post=4937&action=edit(opens in a new tab)
More about ingredients as ingestibles here:
Ingestible skincare ingredient: Glutathione—is it a shady skin lightener or misunderstood skincare superstar for hyperpigmentation and fine lines?
Ingestible skincare ingredient: Phytoceramides—are they a 'facelift in a bottle' and the secret to radiant, firmer skin from the inside out?
Ingestible skincare ingredient: Vitamin A—the top 4 reasons why it's a skin-saving superpower 
Ingestible skincare ingredient: Vitamin E—from being the ultimate antioxidant to protecting against inflammation
Ingestible skincare ingredient: Burdock root—the natural solution for everything from digestion to a clearer complexion?