Ingestible skincare ingredient: Burdock root—the natural solution for everything from digestion to a clearer complexion?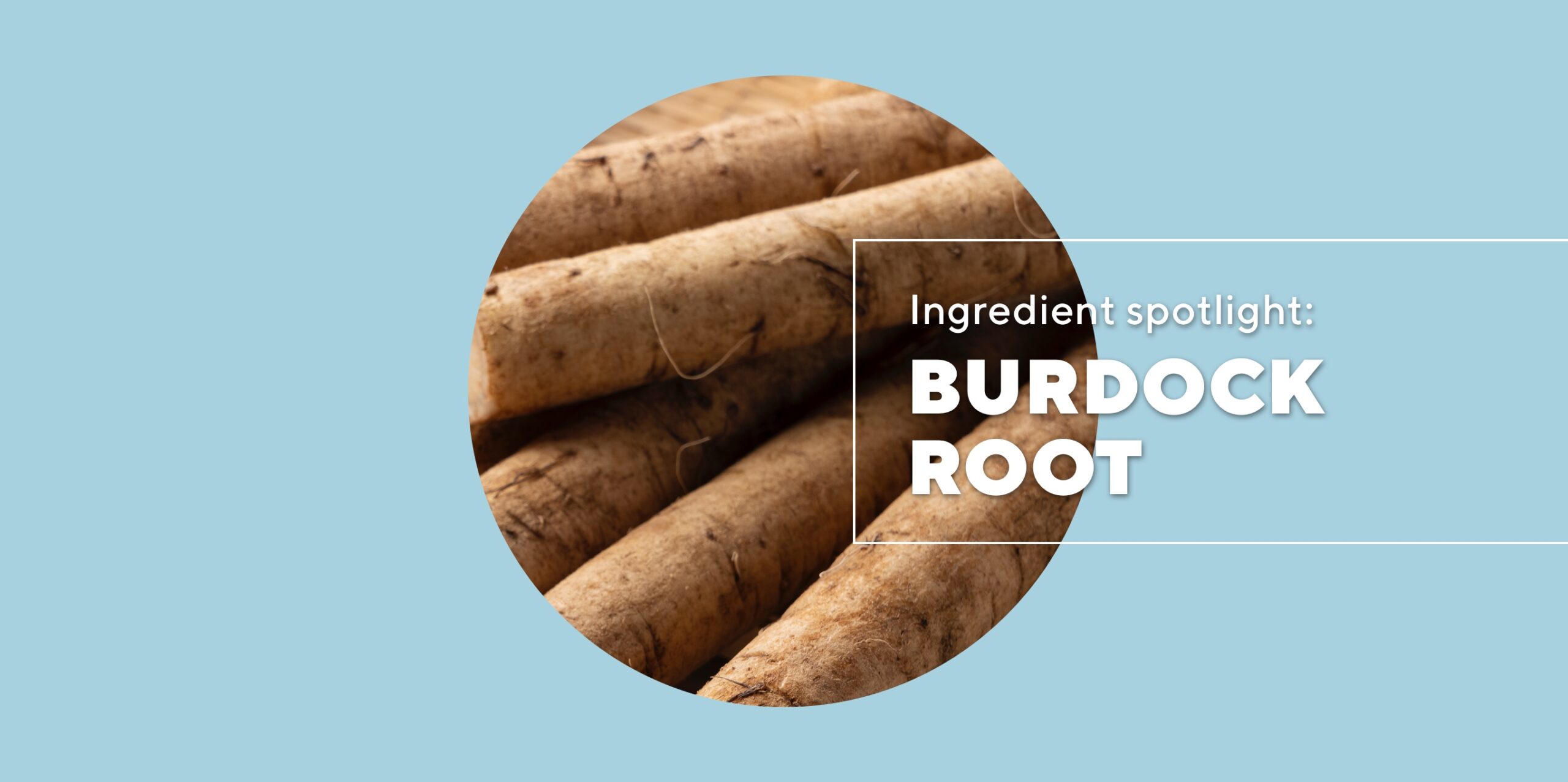 "Food is medicine" seems to be one of the leading adages of our time, but if there's any ingredient with a clinical record to back it up, it's burdock root. As one of the oldest remedies for skin conditions, it's rich in lessons to impart about ingestible skincare—and chock-full of blemish-fighting properties to share with our skin. Read on as we dive deeper into this ingredient and the power it holsters within skincare supplements.
What is burdock root?
Botanically known as Arctium or Arctium lappa, burdock is a type of biennial plant that predominantly grows in North America and Eurasia. For hundreds of years, cultures from Japan to the Ojibwa in North America have relied on burdock—particularly its root—as a source of sustenance and a powerful therapeutic agent in plant-based folk medicine to support 3 main bodily functions:
Digestion and elimination
Circulation and blood purity
Immune and skin health
Burdock root's various applications remind us of an important truth about our bodies: our physical systems are closely interwoven, and their well-being is mutually contingent.
Acknowledging the interwoven relationship of each organ of our body shows us that achieving healthy-looking skin isn't strictly a matter of surface-level (i.e., topical) interventions. It's also about seeking balance and health internally so that our skin's health isn't just a fringe benefit.
How does burdock root affect the skin?
Arguably the most powerful and beneficial attribute of burdock lies in its superior reserves of antioxidants, with the majority of antioxidants like phenolic acids, quercetin and luteolin found in its roots.
No matter your age, skin history, or current condition of your skin, antioxidants are a vital part of any modern skincare regimen. These are the substances that your body produces to control free radicals—unstable molecules generated during normal cellular processes (e.g., digestion) and after exposure to potentially toxic pollutants (e.g., cigarette smoke).
Taking an antioxidant-rich burdock root supplement may serve to mitigate the effects of oxidative stress and reestablish cellular equilibrium. These effects, in turn, can clear the way for a host of benefits including (but not limited to) resilient, healthy-looking skin.
01
Burdock root supplement benefits for skin
There are three potential health benefits of ingesting burdock root orally—not just for the betterment of our skin, but for the enhancement of our entire well-being. 
02
Burdock root helps banish blemishes
If you struggle with pimples—either chronically, or during the odd hormonal flare-up—burdock root may be a powerful ally in reducing them and building back a smooth, even complexion. 
Recent studies have confirmed burdock root's remarkable efficacy in taking acne vulgaris to task due to its antimicrobial and anti-inflammatory properties: 
03
Burdock root helps with inflammation
One of burdock root's premier skin benefits can be traced back to one of the richest medical traditions on the planet: traditional Chinese medicine (TCM). Burdock root is a staple of the TCM herbal canon, where it's most commonly used to treat 3 skin issues that have an inflammatory response in common: 
Psoriasis

: Causes itchy, scaly rashes on the skin

 

Eczema

: Can lead to dryness, itching, and infection

 

Contact dermatitis

: Skin's response to foreign substances

 
04
Burdock root promotes healthy circulation
Circulation is fundamental for every system of the body, but it has a unique role to play in our skin. Maintaining a healthy blood flow is a critical part of nurturing our skin with the nutrients we acquire through food sources and supplements. It's also elemental to restoring the skin in periods where it has to recover from injury. That's because, as our body's first line of defense, skin is constantly in a state of cell renewal and self-replenishment.  
When circulation is poor, however, the skin can appear dull, lifeless, and have trouble "bouncing back" from conditions such as: 
Sunburns and UV radiation

 

Acne and acne-related scarring

 

Physical injuries to the skin

 
TCM practitioners have a long record of using burdock root to encourage blood to flow to the skin's surface. They also regard burdock as a blood purifier, with the ability to eliminate toxins found in the bloodstream. Taking a burdock root supplement may serve to foster a creamier skin texture externally and promote its internal vitality, reducing concerns like eczema and resulting in nourished, revitalized skin. 
05
Burdock root balances the microbiome
If you've ever taken a sip of burdock root tea, you may know that it has a uniquely slippery texture. This is because burdock root is rich in inulin, a type of prebiotic with gut health-enhancing properties that may be linked to its ability to absorb and retain moisture. 
In many cases, persistent blemishes may result from a perturbed gut-skin axis—a term that refers to the intimate relationship between our gut microbiome and the immune function of our skin. Researchers suspect that an imbalanced microbiome has a significant role to play in controlling metabolism, immune responses and inflammation throughout the body, including our complexion.  
In addition to assisting with the restoration of our gut microbiota, burdock root may also offer powerful hydrating properties. This is due to inulin's role as a humectant—a substance that binds to and retains water.  
By helping our skin absorb and maintain its hydration levels, the benefits of burdock root may go beyond coaxing our gut-skin axis back into balance. It may also help to lock in that extra dose of moisture our digestive and cutaneous systems need to maintain a state of wellness. 
The views expressed in this article do not necessarily represent the views of Murad, and are for informational purposes only, even if the advice of physicians and medical practitioners are included. This article is not a substitute for professional medical advice, diagnosis or treatment, and should not be considered specific medical advice. 
References for this information:
Mount Sinai Website, Health Library
Journal of Pharmaceutical and Biomedical Analysis, 2010, volume 51, issue 2, page 399-404
Homeopathy, 2014, volume 103, issue 3, pages 203-207
Acupuncture Today Website, herbs and botanicals
Biophotonics for Medical Applications, 2015, pages 243-299
Journal of Holistic Nursing, 2014, volume 32, issue 4, pages 327-340
Inflammopharmacology, 2011, volume 19, 245-254
Carbohydrate Polymers, 2016, volume 20, issue 147, pages 444-454
More about skincare ingredients as ingestibles here: 
Ingestible skincare ingredient: Glutathione—is it a shady skin lightener or misunderstood skincare superstar for hyperpigmentation and fine lines?
Ingestible skincare ingredient: Phytoceramides—are they a 'facelift in a bottle' and the secret to radiant, firmer skin from the inside out?
Ingestible skincare ingredient: Vitamin A—the top 4 reasons why it's a skin-saving superpower
Ingestible skincare ingredient: Vitamin E—from being the ultimate antioxidant to protecting against inflammation
Ingestible skincare ingredient: Grapeseed oil—the only ingredient you need on your supplement shelf for radiant, even skin?