Finding your purpose—and your mental wellbeing along the way: One very cool 'activist muse's' story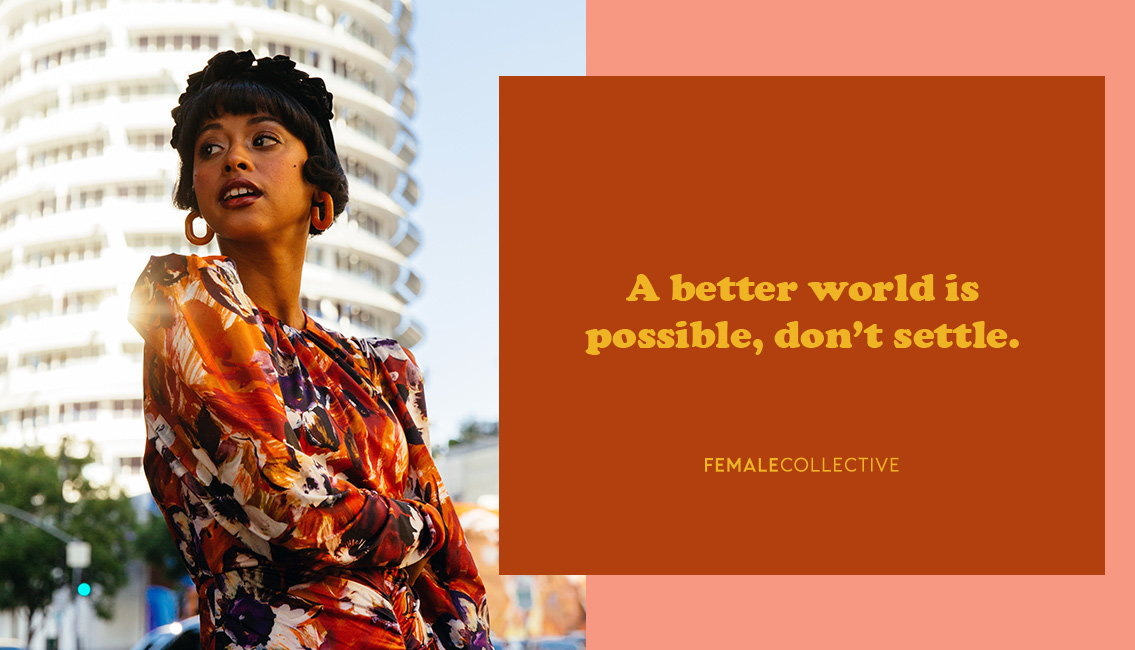 Candace is an intersectional feminist, self-love advocate and fierce champion for women's empowerment. Her community platform, Female Collective, uplifts and celebrates the feminine spirit. She's been called the "activist muse every 'it girl' is following on Instagram" by WhoWhatWear. This is her story about the importance of adding intersectionality to feminism for total healing and belonging.
Path to purpose and mental wellbeing
In 2016, the ugly truth of systemic oppression in America was made visible to everyone and the fight for equality sparked the first Women's March, the Me Too movement and a rebirth of second-wave feminism. This rebirth—called Intersectional Feminism—looked at traditional feminism through a new lens that considered not just equality dynamics between men and women, but the breadth of equality barriers faced by women and how they intersect.
That same year, I found myself searching for support and community. I wanted to be a part of this rebirth and find a place to heal. Like any self-respecting millennial looking for meaning in their life, I turned to social media in search of belonging. I was seeking a community whose mission intertwined intersectional feminism and self-love, but couldn't find anything I connected with, so I started to curate the content I was craving as a tool for healing and strength.
I quickly discovered my need for a safe space to explore these topics was not unique. My empathic, educational messages wrapped in witty humor began to attract the attention of women all over the world. As the empowerment in my posts grew, so did my audience, and the Female Collective community was born of vulnerability, love and support.
Over the years it has evolved into a consistent reminder to celebrate the struggles and successes of our individual journey. We are a community for those who reject the social constructs of the patriarchy and status quo. Our goal is to create positive energy and space for the development of new social constructs that can change the narrative and give voice to women and non-binary people of all races, sexualities, ages, ability and classes. We do this through conversations about culturally and politically charged issues such as body positivity, reproductive rights, Black Lives Matter, climate change, immigration issues and LGBTQ+ rights—all things that encompass Intersectional Feminism.
Importance of understanding intersectional feminism
The term "intersectional feminism" is not new. It was coined more than 30 years ago by lawyer Kimberle Crenshaw, a professor at UCLA and Columbia Law School. Her teachings examine how race, class, gender and other individual characteristics intersect and overlap, rejecting the premise that gender discrimination exists in a bubble. Every woman is subject to bias and discrimination based on their unique set of intersections. As a Black woman, I face inequality and discrimination because of my gender and race. Other women might experience it based on their gender and sexuality, ability, class, age and/or religious beliefs.
Depending on their intersectionality, women can be denied and discriminated against through wages, reproductive rights, environmental issues, education. The statistics are staggering as the quantity of intersection points grows.
If we look at the wage gap with White men, White women are paid 21% less, while Black women are paid 38% less and Latina women are paid 45% less.
If we look at childbirth, Black women are 3-4 times more likely to die from childbirth related issues than a White woman.
If we look at environmental issues—like contaminated water in Flint—we see the impact of the degradation of our planet and natural resources often falls predominantly on BIPOC (Black, Indigenous people of color) communities.
The key to creating a society that values and respects everyone equally is awareness and understanding of the intersectionality of each of our individual differences. When uplifted and treated with dignity, unique perspectives and experiences make space for the empathy, creativity and human connection necessary to build a more equitable future for all of us. Equal pay, access to safe, unbiased medical care and clean food, air and water are fundamental human rights owed to every person on this planet. They will not be a reality until we dismantle systemic racism and inequality.
The discrimination women experience has a detrimental impact on our mental and physical health. This is a time for action. We must acknowledge the complexities of intersectionality and fight for justice—not just for women who look like us, but for every woman. We must work to ensure every woman has the resources and support they need to feel safe and empowered in their lives, no matter their class, sexuality, or race. If we can listen to, understand and uplift one another, we will change the world.
Activate your intersectional feminism and support orgs that do intersectional work: