Thinking of traveling for a beauty procedure? Here's what you need to know before booking that flight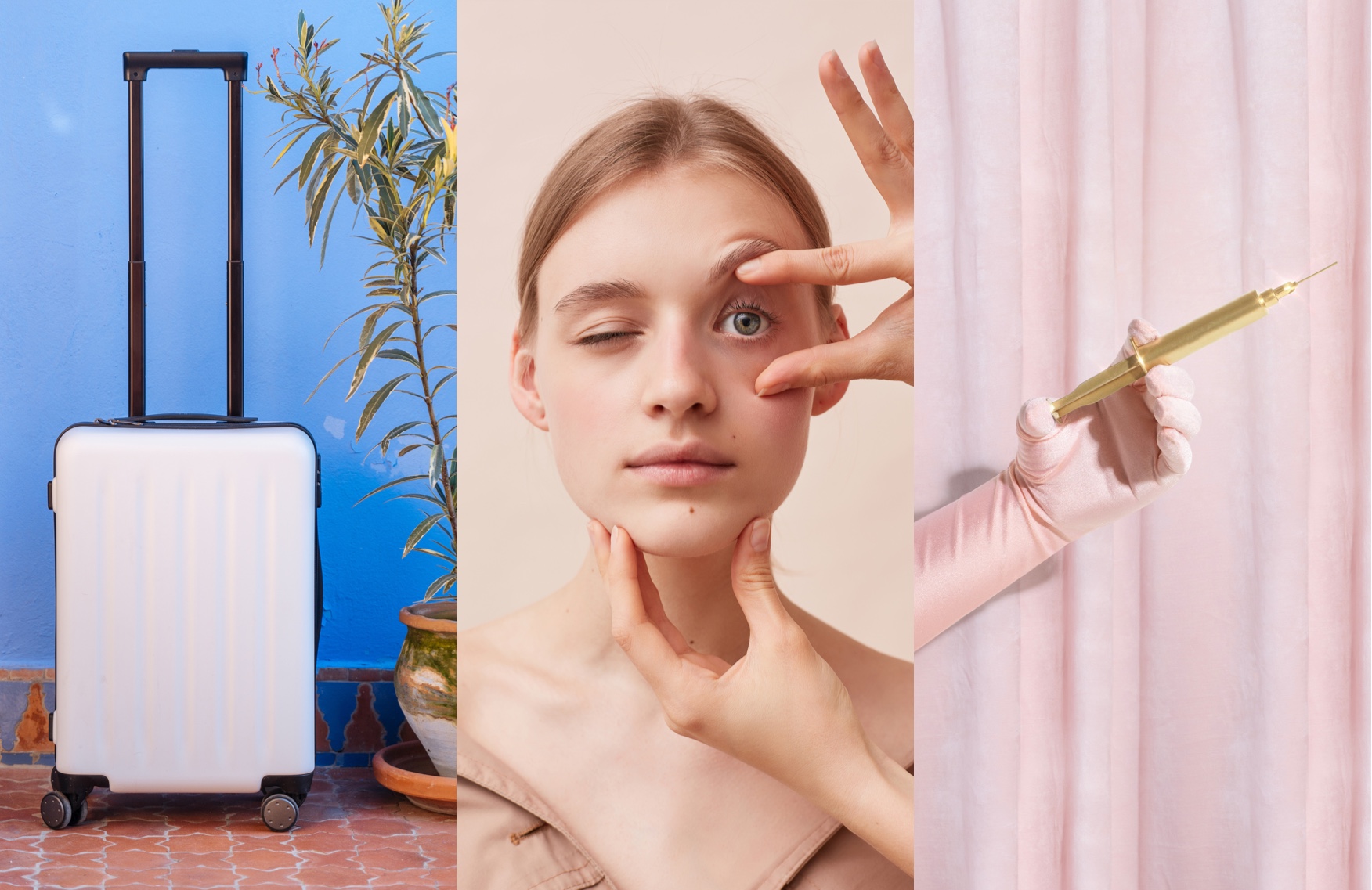 When you think of traveling to a far-flung destination, you may consider its beaches, food and culture as factors that make it worth the visit. For many people, cosmetic surgery is another thing to add to the list. The beauty tourism industry has seen a rise in patients flocking to destinations abroad to have various procedures like rhinoplasty, face lifts and body contouring performed. Here, we've laid out exactly what beauty tourism entails (and what you should know about it before booking your flight).
What is beauty tourism?
Beauty tourism refers to traveling abroad (common hotspots are Korea, Mexico, Colombia and Turkey) for surgical or non-surgical cosmetic treatments. According to Colombia-based plastic surgeon Dr. Alan González, roughly 65% of his patient population are out-of-towners, the vast majority of which are traveling from the United States. The types of procedures that are typically done abroad can vary according to age, but the common ones for women between the ages of 20 and 35 according to Dr. González are liposuction with anatomical contour definition, Brazilian butt lifts (BBL), breast augmentation with fat grafting and rhinoplasty.
"For women between 35 and 50, procedures may involve body contouring surgeries like mommy makeovers and abdominoplasty," he says. And, for patients over 50, facial rejuvenation surgery (including face and neck lifts) as well as eye rejuvenation surgery (such as eyelid and eyebrow lift procedures), abdominoplasty and liposuction with skin tightening are common procedures.
Why people are traveling abroad for surgery
"20 years ago, the percentage of patients who traveled to me to get a procedure was less than 10% — 10 years ago we're talking about 30%," Dr. González says. "My 23 years of experience as a plastic surgeon in Colombia allows me to say that it has been a progressive trend." What's causing the uptick? For one, the rise of social media may be at play. Kelly Beasley, a surgical patient who traveled abroad for a facelift, neck lift, upper and lower blepharoplasty, lip lift, and fat transfer to face and lips, discovered her eventual doctor on social media. "I knew a facelift was in my future at some point, but one day on TikTok I saw someone who went to Tijuana for a facelift (and looked phenomenal). I was intrigued because I'd never heard someone tell their story firsthand about going to another country for surgery, and she had even shared the cost, which was significantly less than the same surgery in the states." 
For Dr. González and his practice, Colombia has been a sought-after destination as it sits at the forefront of innovative surgical techniques and technologies. Plus, those traveling from the United States can take advantage of the favorable exchange rate between the local currency and the US dollar. "When patients come [to Colombia], they have access to services of equal or higher quality than in their home countries, but at a lower comparative cost," he says. "They can expect preferential treatment, fulfillment of all their pre-, trans-, and post-operative needs, high-quality procedural guidance with very high standards, and of course, higher levels of satisfaction with results framed in advanced surgical techniques, barely visible scars, and very natural forms."
What to keep in mind before booking your flight
While a doctor's skill level and the lower cost may be enticing, Lexi Maldonado, registered nurse and co-founder of Calicia Care, a Los Angeles-based post-surgical concierge service, says to give your recovery the same thought as the actual procedure. "The recovery process after any procedure is vital to the outcome, specifically for patients undergoing a mommy makeover," she says, noting that these patients will need help with moving around and walking within the first few days postoperatively, keeping track of (and administering) medication, and ensuring proper fluid and protein intake. "We always encourage our patients to do their research and make sure they are partnered with a caregiver that is experienced in the post operative care process," she says.
Maldonado also says that patients should make sure they allow themselves enough time to safely recover before traveling back home. Dr. González agrees, adding that it's essential to plan your surgery well with your specialist and the accompanying staff, have a clear understanding of the recovery time, and travel within a few days before the surgery. As for how long you'll need to plan to stay in the country, it can vary. For Dr. González, it's common for the length of the stay to be about 10 to 21 days, depending on the surgical treatment to be performed.
In addition to doing your due diligence on a prospective surgeon and their certifications, reviews from previous patients, and recovery protocols, it's important to ensure that there's no language barrier, as "there can be a risk of miscommunication between the patient and surgical team if English fluency isn't present," Maldonado says.
The views expressed in this article do not necessarily represent the views of Murad, and are for informational purposes only, even if the advice of physicians and medical practitioners are included. This article is not a substitute for professional medical advice, diagnosis or treatment, and should not be considered specific medical advice.