The Mindfulness Menu x Well Connected: What Dr. Murad—a founder of 'internal skincare'—eats, from popcorn to pizza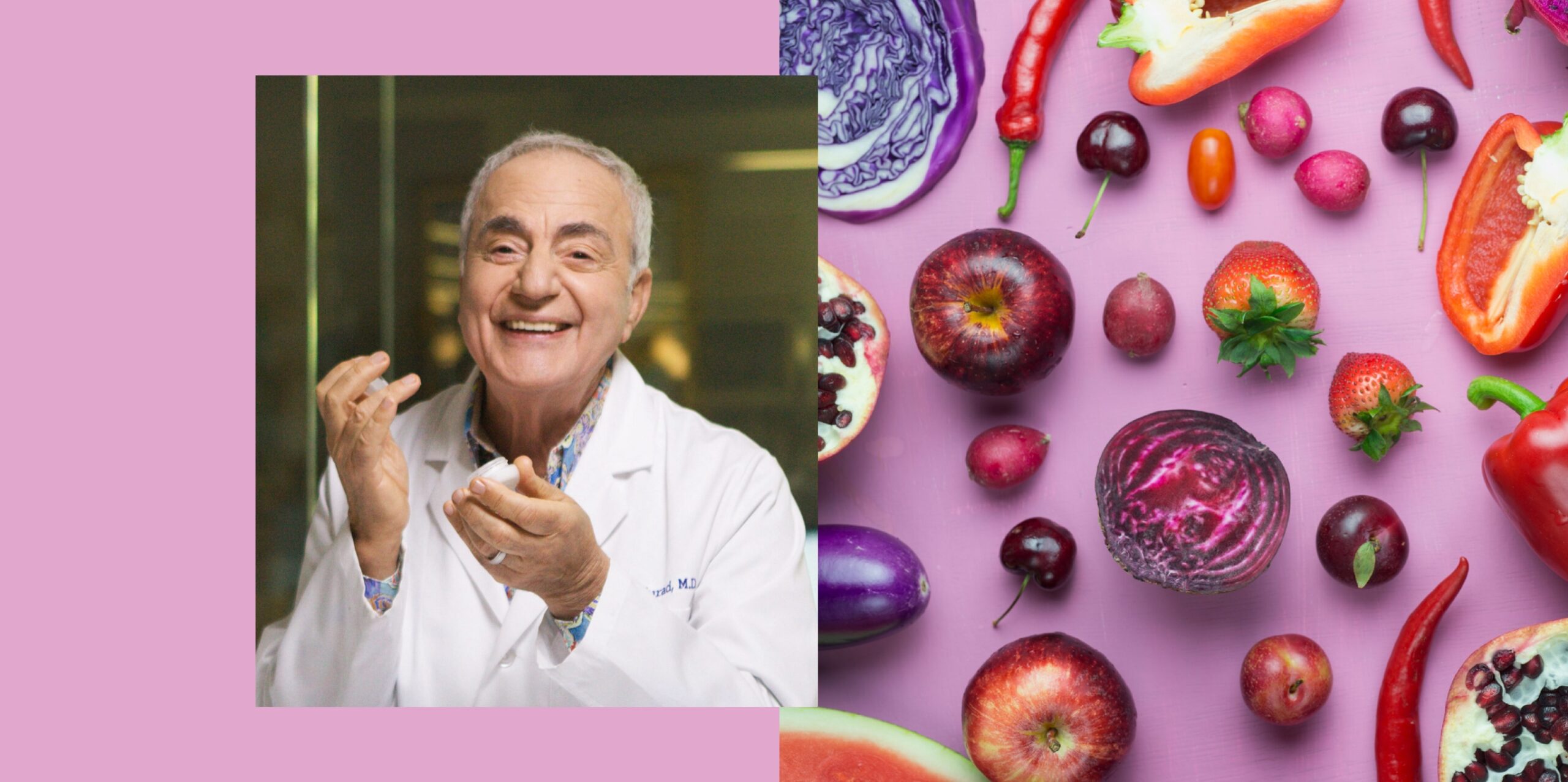 And as one of the original founders of internal skincare, my philosophy is that every organ in your body is connected, and our skin is the body's window to wellness. That's why diet is an integral part of any skincare routine— it's proven that a diet full of cell-hydrating omega-3 fatty acids and water-rich foods is essential for skin health. You can use the most expensive topicals in the world, but if you're not also caring for your internal health, it's counterproductive.
The only three rules I follow when it comes to my diet are: I don't limit myself, I don't follow recipes (I always adjust them to my liking) and I savor everything I eat—because food should create joy, and that joy radiates from the inside out.
Breakfast
The first thing I do when I wake up is take my supplements: a multivitamin, omega-3 and glucosamine. Then I have fried eggs with cooked salmon and veggies, which is a balanced, protein-packed way to start the day. And I always have a cup of coffee with a splash of soy or oat milk. 
Lunch
I usually have a well-balanced salad with tons of raw veggies, nuts or seeds and a protein, like fish or chicken. Then my wife makes me one or two glasses of what we call the "green drink"—a juice with tons of leafy greens, including watercress, which is a nutrient powerhouse.
Mid-day snack
I eat when I feel hungry, and that involves snacking. Some of my favorites are string cheese, walnuts, biscotti, goji berries and raw veggies like red cabbage, string beans and asparagus.
And since I can never get enough of those omega-3s, my wife cooks up some fish every few days and cuts it into little cubes—a convenient and delicious way to support brain health, reduce cholesterol and maintain a healthy metabolism.
Dinner
At least once or twice a week, my wife and I order mushroom pizza from our favorite local spot, Gjelina. This is not your average pizza joint slice! All of their ingredients are locally sourced, it's not greasy and the thin crust is nice and light.
Some nights we make grass-fed steak or turkey burgers, which are full of protein and iron, and can contain as much as five times the amount of omega-3 fatty acids as regular grain-fed meat.
Beverages
I drink water throughout the day, plus I eat a lot of water-rich foods, like fruit and raw vegetables which help keep me hydrated longer.
Occasionally I'll have sparkling water mixed with pomegranate juice, which is loaded with antioxidants and has great anti-inflammatory properties. I also love kefir for probiotics. But it's not all virtuous—I also love the occasional glass of wine or scotch as a treat.
After dinner
My wife and I almost always have popcorn, which is high in fiber, while we wind down and watch TV or a movie. Then, I finish the day the same way I started—with supplements!