The hidden mental health risks of non-invasive cosmetic treatments—and why they might be too good to be true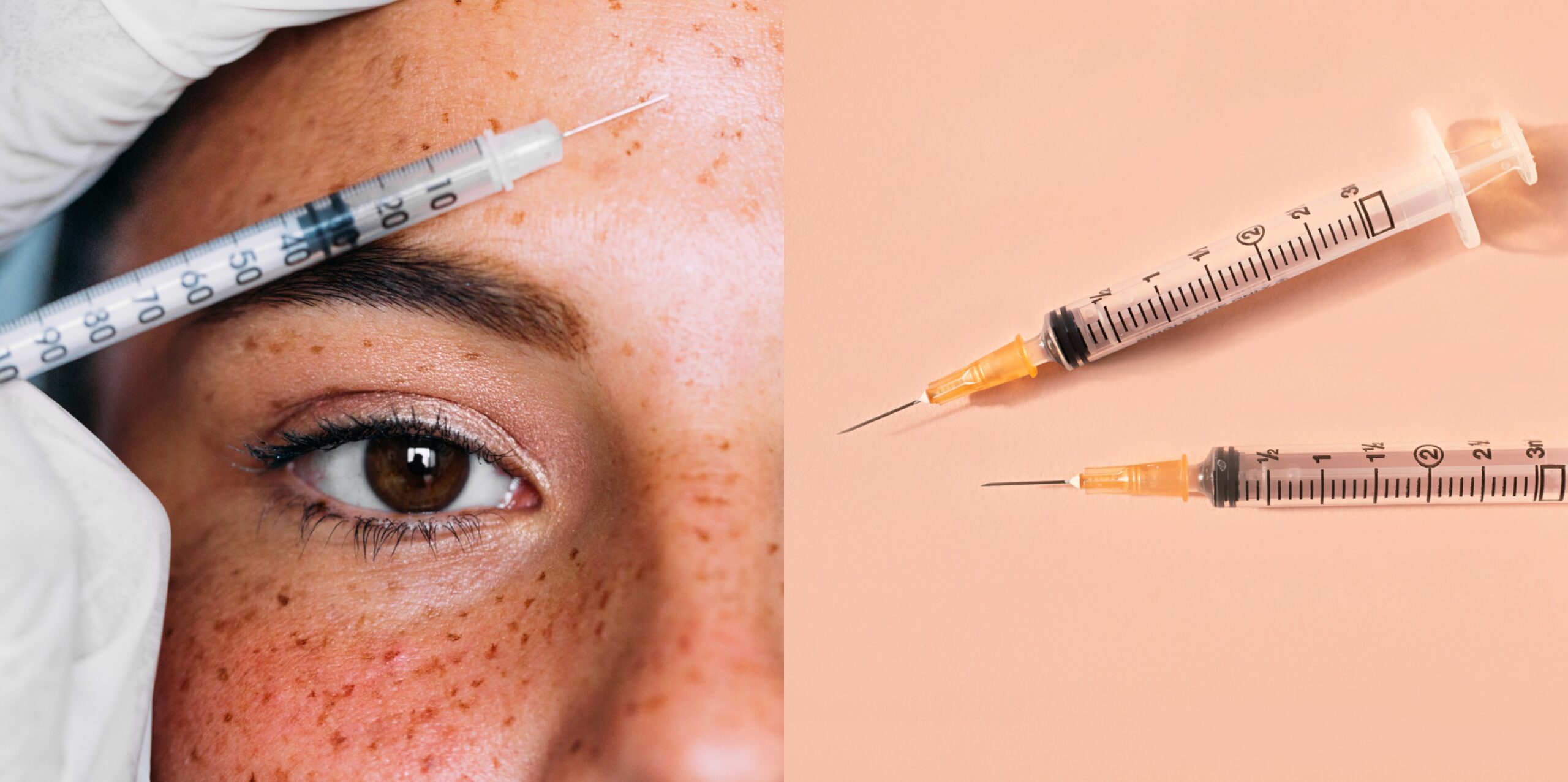 Edited and updated February, 2022.
If we told you that you could achieve the equivalent of 24,000 crunches or squats with a single 30-minute treatment, you might want to sprint out of your HIIT class and into a medical aesthetic office ASAP. It's easy to see why the appetite for non-invasive sculpting, lifting and toning has created a hotter-than-ever demand among patients—with 12 million treatments performed globally in 2018 and an expected growth of 14.08 percent through 2028. From injectables like Botox and fillers, to body contouring procedures like CoolSculpt or Emsculpt NEO, non-invasive options are more accessible, purportedly require less downtime and are comparatively more affordable than their under-the-knife counterparts. But buyer beware, of course: They're not entirely risk-free. 
Popular culture brings risks to the forefront.
Making headlines recently, Linda Evangelista's emotional disclosure of her experience with Paradoxical Adipose Hyperplasia—a rare CoolSculpting complication that enlarges fat cells instead of minimizing them—highlights the darker side of changing one's appearance at the expense of mental health. "It has not only destroyed my livelihood, it has sent me into a cycle of deep depression, profound sadness and the lowest depths of self-loathing. In the process, I have become a recluse," the '90s supermodel details in her Instagram post.  In a follow up post, Evangelista states, "I'm not done telling my story, and I will continue sharing my experience to rid myself of shame, learn to love myself again, and hopefully help others in the process."
While statements and images of botched procedures can ignite fear, they also open up an important discussion with your provider. "Linda Evangelista's story has definitely sparked a lot of questions and concerns from patients," says board-certified dermatologist and Mohs surgeon, Dendy Engelman. "As a dermatologist, much of my job involves dealing with people's bodies and self-image in a very personal way. My patients trust me to guide them towards making the right decisions for themselves, and an important part of that is being honest, including when the conversation is difficult."
How do non-invasive treatments work?
Whether it's through ultrasound vibrations, freezing or radiofrequency, Dr. Engleman explains that all non-invasive body sculpting treatments work by stimulating your body to destroy fat cells in targeted areas. "They can usually be done fairly quickly in-office and don't require anesthesia, downtime or arranging for a ride home," Dr. Engleman adds. Most common side effects include temporary localized pain (think pinching and cramping) and bruising or redness—alongside less-common unevenness and the aforementioned (and rare) increase of fat cells.
Non-invasive contouring is often considered relatively safe among medical professionals. For example, radiofrequency treatment Emsculpt NEO is the only FDA-cleared treatment on the market, boasting an impressive track record of research. "It has been tested in many multicenter studies using the most reputable scientific methods like MRI, CT, US and Histology," Dr. Engelman tells us. In just four sessions, this treatment can supposedly emulate the results of 12-16 weeks of HIIT training—a pretty enticing outcome if your bank account can handle it.
So, what are the mental health risks?
As Evangelisa's recount alludes, the decision to opt into body contouring treatments can be muddled with body dysmorphia, anxiety, depression and disordered eating. A 2016 study reports that body image dissatisfaction is believed to play a role in wanting aesthetic and body contouring procedures. However, the study also states that patients are not only overwhelmingly satisfied with their results, but report major self-image improvements post-treatment—proving a huge psychological component of these types of procedures, for better or worse. 
"I advise my patients to take their time and think before making a final decision about any treatment," Dr. Engleman explains. "One of my undergraduate majors was in psychology. That training and the fact that my mother is a therapist keeps mental well-being top of mind when I am working with my patients." In other words, if you're considering a non-invasive treatment on any level, it might be well worth the effort of exploring the big "why" behind your decision with a mental health professional, loved ones or with yourself. 
The views expressed in this article do not necessarily represent the views of Murad, and are for informational purposes only, even if the advice of physicians and medical practitioners are included. This article is not a substitute for professional medical advice, diagnosis or treatment, and should not looked be considered specific medical advice.