Spices, herbs and antioxidants, oh my: Curry up to 4 delicious fall recipes, from hack to chef-worthy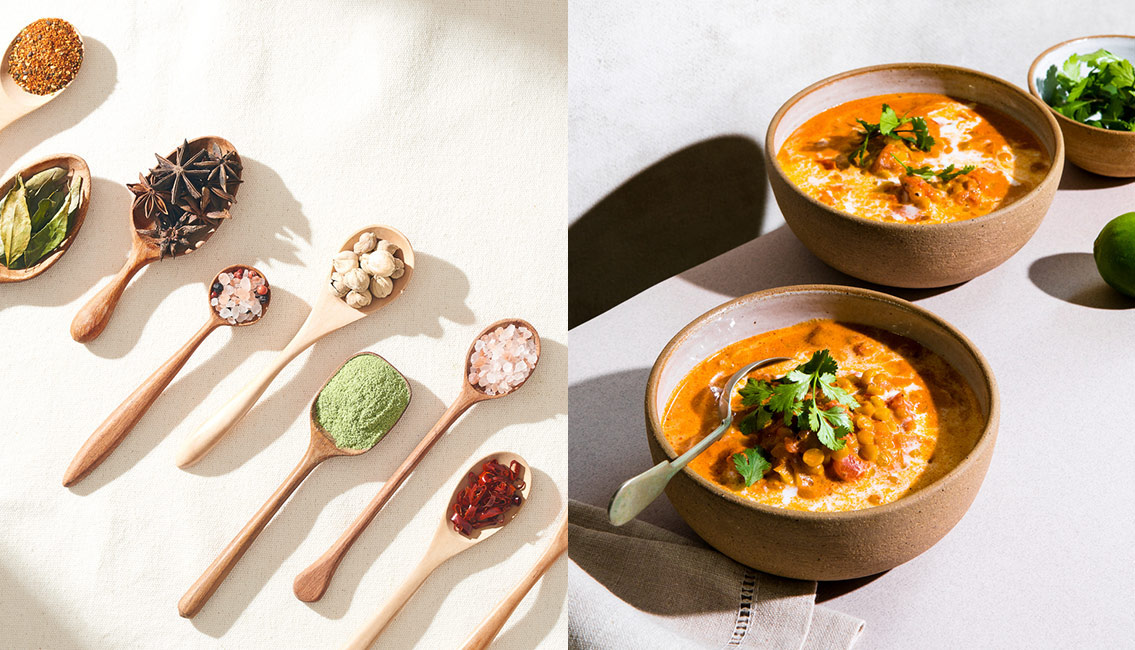 One way to slow the aging of your skin is by increasing consumption of foods rich in antioxidants, which combat inflammation—a key cause of aging.

Dr. Howard Murad, board-certified dermatologist and founder of Murad Skincare
Perhaps no other meal dishes up more fragrant spices and herbs than curry. Here, we've rounded up our four favorite recipes, from hack to chef-worthy—all of which include those antioxidant-rich aromatics Dr. Murad mentions above. We're not saying eating curry will turn back the clock; in fact, eating the dish on its own occasionally won't give you the desired anti-inflammatory effects (supplements are likely necessary to reach the amounts shown to offer benefits). But at the very least, curry is the perfect winter comfort food—plus, now you know a bit more about spices and herbs as antioxidants. Win-win.
Beginner: Trader Joe's Thai Green Curry Simmer Sauce
Prep time: 10 minutes
Antioxidant highlight: Cumin. Contains lots of plant compounds that function as antioxidants, including phenols, flavonoids and alkaloids.
Consider this a life hack. Sold in a jar, it's crafted with a base of coconut milk, shallots, lemongrass, turmeric and cumin. Just sauté half a pound of your favorite protein and add an equal amount of vegetables. Add the curry sauce and let simmer until vegetables are tender. Serve over rice or noodles.
Intermediate: Mark Bittman's Easy Chicken Curry
Prep time: 30 minutes
Antioxidant highlight: Curry powder. Turmeric is the star here—it's a powerful antioxidant that is known to help lower inflammation-causing enzymes.
Another easy one. You only need a pan and seven ingredients: oil, onions, salt & pepper, curry powder, unsweetened coconut milk, peeled shrimp or boneless chicken and tomatoes. Once you've mastered the basics, you can customize, adding various proteins and veggies, or mixing up the spices.
Advanced: Damn Delicious' Thai Red Curry Noodle Soup
Prep time: 50 minutes
Antioxidant highlight: Cilantro. Very low in calories with no cholesterol, but high in antioxidants, vitamins and dietary fiber.
This one's packed with tender chicken, rice noodles, cilantro, basil and lime for a zesty kick. You can also dial the heat up or down, and double the recipe for easy reheating throughout the week. Tip: Rice noodles can be delicate, so be careful not to overcook—five minutes cooking time is the sweet spot.
Elite: The Splendid Table's 24-Hour Chicken Matsaman Curry
Prep time: Technically, 24+ hours, including refrigeration time
Antioxidant highlight: Fennel. Rich in polyphenol antioxidants such as rosmarinic acid and chlorogenic acid, which are potent anti-inflammatory agents.
Ready to put your "Top Chef" skills to the test? Not only is this recipe culled from traditional Bangkok techniques, but is also calls for 16 (yes, 16!) chicken thighs. This recipe does not scale down well, so if you're going to attempt, you have to be all in. Everything is made from scratch—and worth the reward.