Don't get burned by bad sunscreen advice on social media! Are you making these SPF snafus?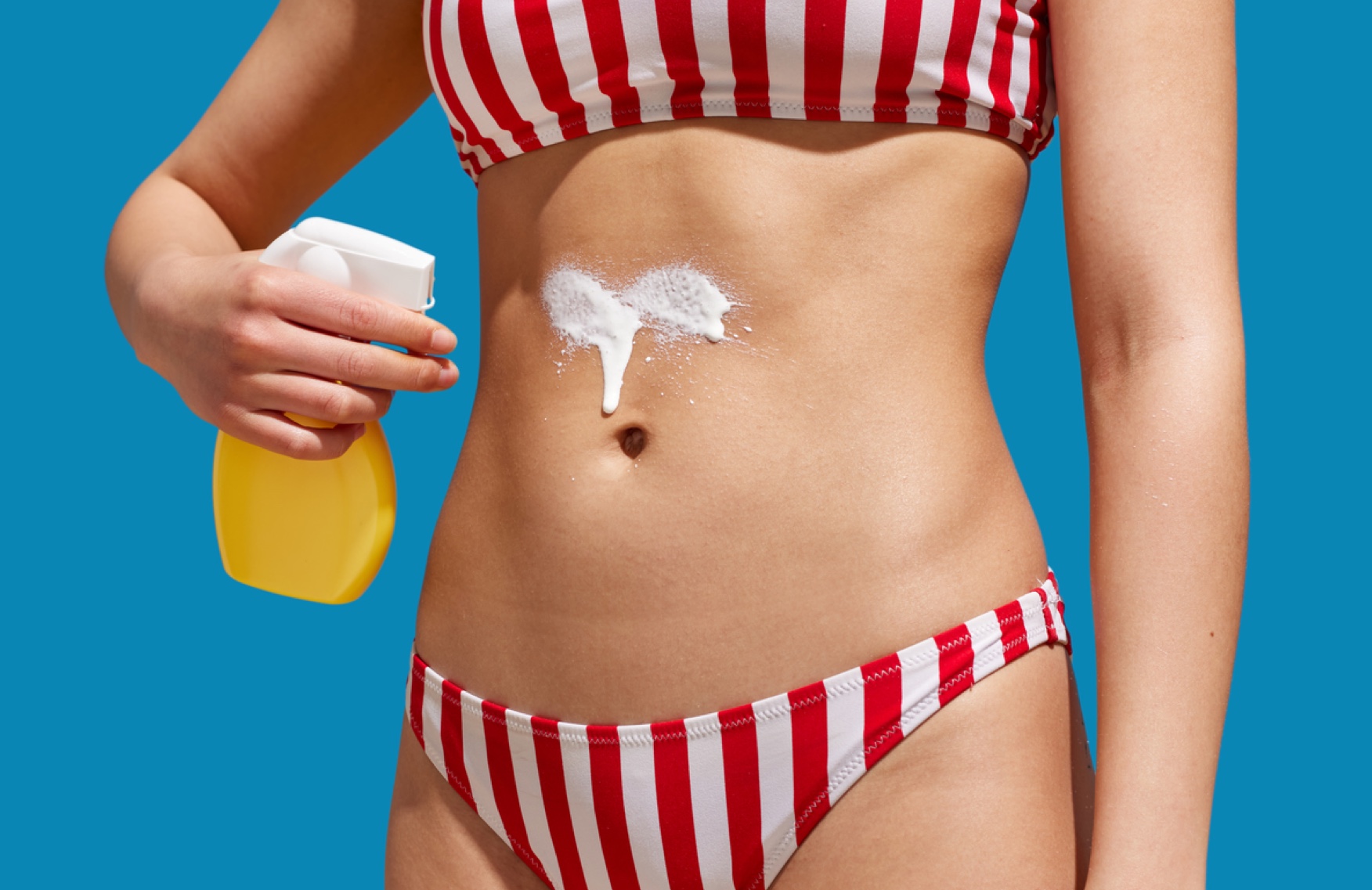 When it comes to non-negotiable skincare products, sunscreen is at the top of the list. It's essential for protection from the harmful effects of the sun's ultraviolet rays, and helps to prevent serious damage such as wrinkles, dark spots, sunburns, melasma and skin cancer. But when it comes to SPF specifics, like how much to apply and when, things can get confusing.
Social media can be a great tool for sun protection education, but it can also be dangerous if the source isn't legit. We asked Dr. Hadley King, MD-FAAD, a board-certified dermatologist based in New York City, to debunk some of the worst sunscreen advice we've ever seen on social so you don't get burned—literally.
Bad advice: Sunscreen contouring
Chances are you've come across a TikTok about sunscreen contouring, where someone claims they can "naturally" contour their skin using the sun's rays instead of something more practical, like a contour stick. If you thought this was a bad idea, you're right. "Most people only apply 25-50 percent of the recommended amount of sunscreen. The guidelines are to apply one ounce, or enough to fill a shot glass, to the exposed areas of the face and body; a nickel-sized dollop to the face alone," King says.
Or if you're using a spray, apply until an even sheen appears on the skin—that's the amount you need to apply to get the advertised SPF. And remember that there's no such thing as a healthy tan—a tan is a defense mechanism that kicks in when your DNA is getting damaged."
Bad advice: Mixing sunscreen with other products
Some people think mixing their sunscreen into their moisturizer or foundation is a time-saving hack, but it's not a good idea. "You don't want to take the risk of diluting sunscreen and decreasing its SPF and efficacy, so I wouldn't recommend mixing it with other products," King says. "But it's fine to apply it before or after other products." 
Bad advice: You don't have to use sunscreen at all
Despite everything we know about the importance of SPF, there are people on social who claim that using sunscreen is more harmful than not using it at all, due to the chemicals used in the products. The reality? It's simply not true. "UV radiation is a proven carcinogen, and non-nano mineral sunscreen ingredients are GRAS—generally recognized as safe," King explains. "Sunscreens can be chemical, physical or a combination. Chemical sunscreens are made up of chemicals that absorb UV rays and create a chemical reaction, changing the UV rays into heat, which is then released from the skin.
Physical sunscreens (also known as mineral sunscreens) on the other hand, contain mineral ingredients such as zinc oxide and/or titanium dioxide, which sit on top of the skin to scatter and deflect UV rays, physically blocking them from penetrating the skin." King emphasizes that the best sunscreen for you is the one you will wear regularly. "UV is a proven carcinogen, and most concerns about chemical sunscreens are theoretical and not proven," she says.
Bad advice: If you have dark skin, you don't need sunscreen
Everyone needs sunscreen protection, regardless of their skin tone. "Although melanin does help to protect the skin from damage caused by UV radiation, the protection is not complete or total," King says. "Sun-related skin cancers and photo-aging can still occur in darker skin types."
Bad advice: DIY'ing our own sunscreen

We can DIY many things, but sunscreen shouldn't be one of them. That's because sunscreens undergo rigorous testing to determine their SPF. "This is a highly regulated process and it's not as simple as it may sound," King says. "Formulations can sometimes yield unexpected results and need to be redone and retested. DIY products, on the other hand, are not tested, so you have no idea how effective they are. This is dangerous! Considering the wide range of affordable sunscreen options available that are both effective and formulated with safe ingredients, there's no need to take the risk with DIY."
Bad advice: Powder sunscreens are just as effective as others
Convenient and easy to apply on the go, powder sunscreen may seem like a great idea in theory. However, the unfortunate reality is that it's not as effective as you might think. According to cosmetic chemist Dr. Michelle Wong, also known as Lab Muffin, the amount of powder you'd have to use to achieve the full SPF effect is too much to actually stay on the skin. But while powder sunscreen may not provide adequate initial protection, it can be useful for mid-day reapplication to maintain the benefits of your sunscreen.
The views expressed in this article do not necessarily represent the views of Murad, and are for informational purposes only, even if the advice of physicians and medical practitioners are included. This article is not a substitute for professional medical advice, diagnosis or treatment, and should not be considered specific medical advice.