Cooking well shouldn't be stressful—one of YouTube's most popular chefs shows us how to conquer 7 common stressors in the kitchen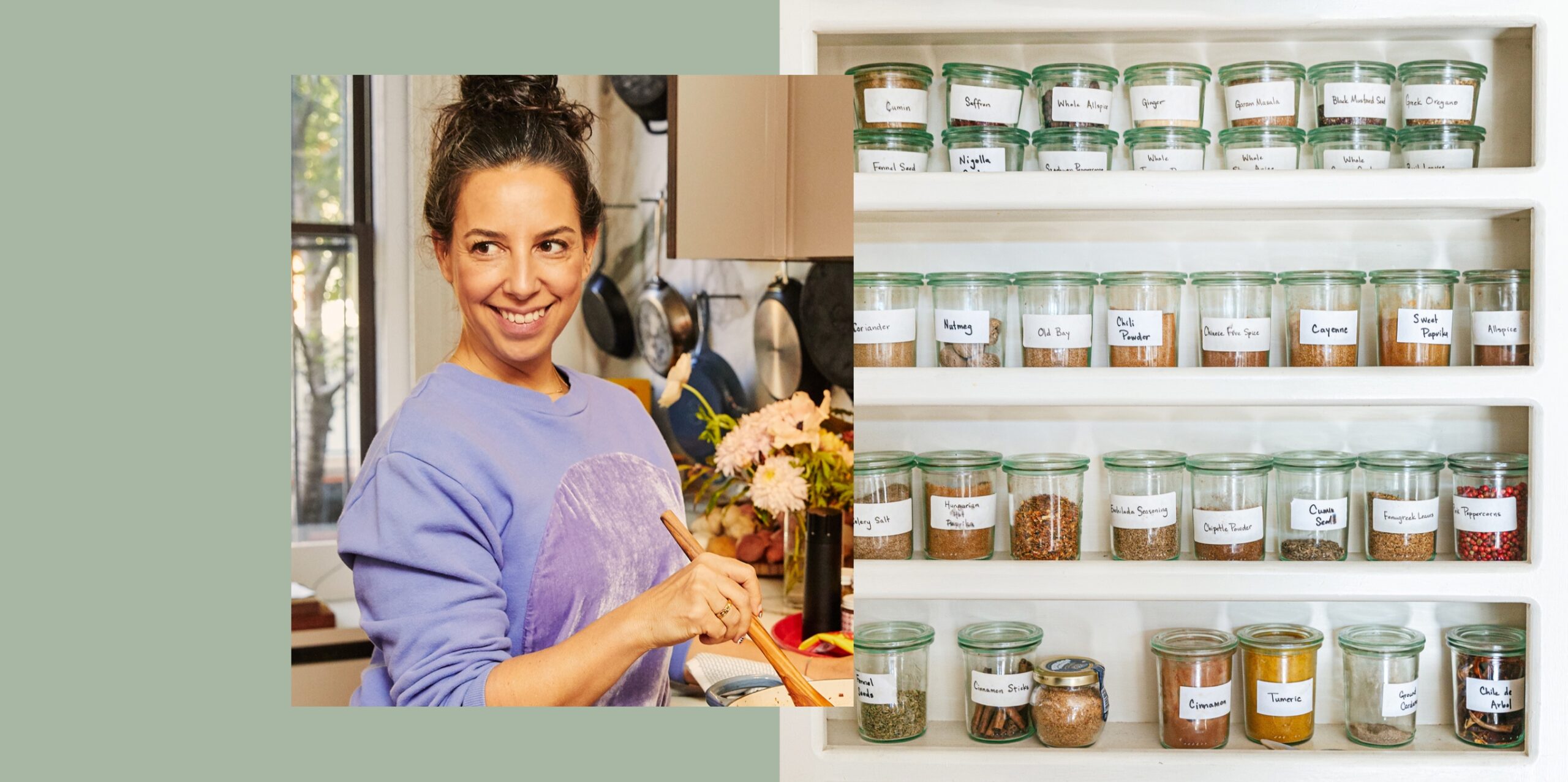 Edited and updated October 2022.
Cooking should be fun, not stressful, but time and time again, I hear from people whose nervousness or anxiety around cooking keeps them from channeling their inner chefs. The good news? You're not necessarily doomed to a life of takeout—which, of course, probably isn't the best for your overall health and skin! With a little guidance, anyone can get comfy in the kitchen. Here, 7 things people always say to me about why cooking stresses them out, plus how to tackle these stressors to start creating the meals of your dreams.
01
"I hate wasting food."
Cutting back on food waste is something I'm passionate about; it's a recurring theme in both of my books. All of my recipes are written with ingredient swaps. If you have every ingredient to make a recipe except for one thing, don't go to the store to buy it unless it's central to the flavor of the dish. The same is true in reverse—it's also OK to add ingredients the recipe doesn't call for. Learning when to omit something or make a substitution will liberate you as a cook.
Labeling leftovers before you put them in the fridge is another great way to minimize food waste. The label lets you see what's in the container and how long it's been there at a glance, which increases its chance of being eaten rather than tossed out. 
Before throwing away soon-to-expire items, look for a community fridge in your neighborhood to donate them to. When I have too many ingredients leftover from a photo shoot and don't have time to use them, I'll drop them off at a community fridge to help feed someone in need.
02
"I hate grocery shopping."
When my kids were younger, I'd do a big grocery shop over the weekend, which would take two hours. Then I'd come home, put everything away, and by the time I finished, I didn't feel like cooking anymore. Not to mention, I was spending one of my two precious days off shopping. No thank you!
I started ordering groceries online and realized that it not only reduces stress, but also saves time. I order all my pantry staples or heavy items online. Keeping a supply of dry goods that don't go bad like spices, dried beans, grains, condiments, oil and vinegar lets you save time for shopping in person for fun stuff. Now, I only go to the store so I can see what looks good and is in season. I'll talk to the fishmonger who can tell me what the best catch is, chat with the cheesemonger about what's new, scope out the freshest berries or pick out a gorgeous loaf of bread.
03
"I don't know how to meal prep."
I'm not a meal prepper. I believe it creates stress and can lead to over-shopping. In my experience, what you thought you might want to eat on Wednesday is rarely what you feel like eating when the day rolls around, so you end up getting takeout, and the food you planned to make that day goes to waste. 
Instead of prepping, I always have my pantry stocked with staples that could easily be turned into meals. For example, whenever I make rice, I make extra for the week and keep it in the fridge. Then it can be used for stir fry, a grain bowl or as a side dish. Soup stocks are also an easy way to create a meal in a pinch. I always keep a stock in my freezer, which can be defrosted easily, then I'll throw in noodles and whatever protein or greens I have for a delicious (and healthy!) last minute meal. 
And keep your kitchen stocked with condiments. Just a few dashes can make a simple meal more flavorful and satisfying. Pickles, kimchi, hot sauces, gochujang and lemons are all shelf-stable and give you a ton of flavor profile options.
04
"I'm scared I'll ruin the recipe."
If you want to make something basic and the recipe feels complicated, it is! Look for a short ingredient list and recipe language that's clear to you. My goal when creating recipes is to write them in a way that people are going to be able to figure out, no matter their level of cooking expertise.
Visual cues can be wonderful for mastering a recipe, especially when trying new cuisines. When I was learning how to make sourdough bread during the pandemic, I was following a recipe, but couldn't nail it. I knew my starter was alive and that my flour was good, but I struggled with shaping the dough and knowing when it had risen enough. I watched a lot of YouTube videos, and seeing it done on screen, rather than on paper, helped me figure it out the exact technique. 
It's helpful to remember that even your go-to recipe developer or cookbook author failed at your favorite recipe multiple times before perfecting it—that's part of the learning process. Keep with it and know that you'll grow with practice.
05
"I don't want to deal with the mess." 
Because I learned how to cook in a restaurant setting, I clean as I go. There are always steps in a recipe where there's a few minutes of waiting time. That's when you can wash a few dishes, wipe down the counter or put away ingredients you already used.
A lot of recipes will tell you to have everything chopped and prepped ahead of time, which can lead to a lot of dirty bowls at the end. But unless you're making a stir fry or baking, you don't have to prep. That will reduce how many little bowls and containers you use.
If you live with other people, division of labor is important. The rule in our house is whoever cooks doesn't clean—which works out great for me because I'd rather be cooking than cleaning.
06
"I don't have enough time." 
Learning how to use inactive time during cooking is key. For example, if you're making the pork chops recipe in my book, they need to rest for 10 minutes after cooking—that's when you can make a salad or sauté a vegetable in the drippings left in the pan. Find those moments to maximize your time.
I wrote "That Sounds So Good" in chronological order, where I tell you what to do and when to do it, which is a helpful way to learn time management in the kitchen.
07
"I'm not creative enough to come up with recipes or things that taste good together."
That's why people like me exist—we come up with the recipes so you don't have to! Contrary to what a lot of people think, cooking isn't all intuition—it's learned through trial and error, practice, experience and tasting lots of things. Cookbooks are a great resource to experiment, learn, become more comfortable in the kitchen and tap into your own creativity.