'Antimicrobial' and 'antibacterial' are beauty buzzwords in this new world order—but are they legit?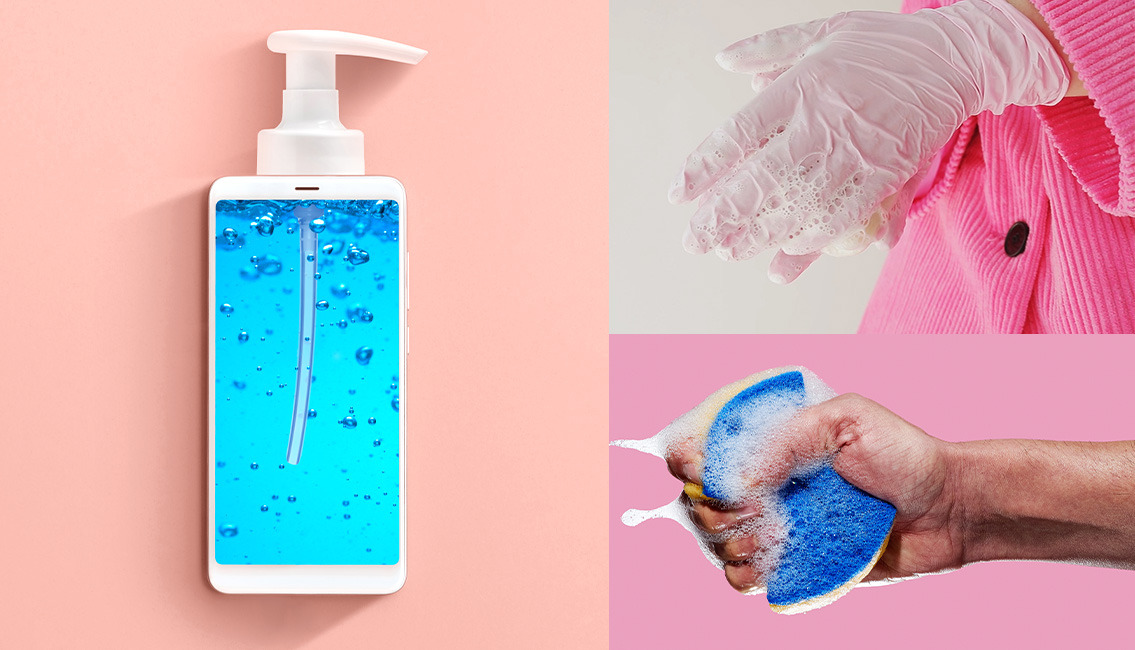 Germs have never been welcomed in our beauty bags, but like anyone who has ever swatched samples at Sephora or Ulta knows, we were much more lax about sanitation pre-pandemic. Now, thanks to COVID-19 and all of this (*gestures wildly at everything*), we're all pretty hardcore about practicing good hygiene—and the beauty industry has followed suit.
Antimicrobial/antibacterial products aren't an entirely new concept. Chances are, you already own some, like makeup brushes, blending sponges and fungal infection-fighting polish. But that's just the tip of the iceberg, according to cosmetic chemists. Incorporating the same technology used for decidedly less glamorous items like housecleaning sponges, antiperspirants and activewear, beauty brands are working steadily to develop more products and packaging that are even cleaner and more sterile to use.
How do antimicrobial/antibacterial products work?
To understand how antimicrobial technology functions, we spoke to award-winning UK-based scientist, cosmetic chemist and skin coach Cheryl Woodman. She explains, "All beauty products you own should use some form of preserving system, which makes it exceptionally hard for microbes or yeasts to grow. This can be done by blocking their metabolism, breaking down their cell walls or making their 'food source' unavailable. This also creates a hostile environment for bacteria to kill them off and stop their attempt to live on, for instance, your beauty blender."
In short, antimicrobial technology for beauty products already exists—it's just being reimagined and repurposed for a post-COVID world. "There are definitely some antibacterial claims that brands might start to make without even having to modify their formulas," Cheryl says.
It's not just makeup and skincare that can play up this new, bacteria-fighting angle. Alongside more typical "hardware" like brushes and face rollers, your future kit might also include appliances like UV-C sanitizing lights. These lights can instantly zap germs living in your makeup or on your brushes. Plus, they can be even more effective than disinfecting sprays—a 2020 study published in the International Journal of Infectious Diseases demonstrated UV-C light as capable of killing COVID-19 living on the surface of respirator masks.
Brands also continue to think about innovative packaging designed to keep your lotions and potions clean. Touchless components, bacteria-repelling pump jars and airtight dispensers are already on shelves, but expect them to become the norm in the future (goodbye to open jars forever, perhaps?).
So is antimicrobial/antibacterial beauty legit?
It's a grey area. According to Cheryl, "Antimicrobial products can be effective. However, use caution. Though cosmetics do have that preservation system, they're not regulated as vigorously as healthcare formulas. Therefore, the testing needed to get a product onto market is not as substantial. Many products may imply antimicrobial benefits without making direct claims to get around the need for additional testing." Her advice? "Choose products from well-established and trusted brands to ensure they're effective and the claims are certified."
As antimicrobial/antibacterial beauty continues to evolve, remember that keeping products clean right now is more about how you're using your formulas, vs. what you're using. You can't go wrong with common-sense tips like disinfecting your brushes once a week (at minimum), never sharing makeup and avoiding hand contact with products as much as possible. Because after all, if we've learned anything from 2020, it's that there's no such thing as being too vigilant when it comes to cleanliness.