133 billion pounds of food are thrown out every year—here's how to help tackle the stressful issue of food waste now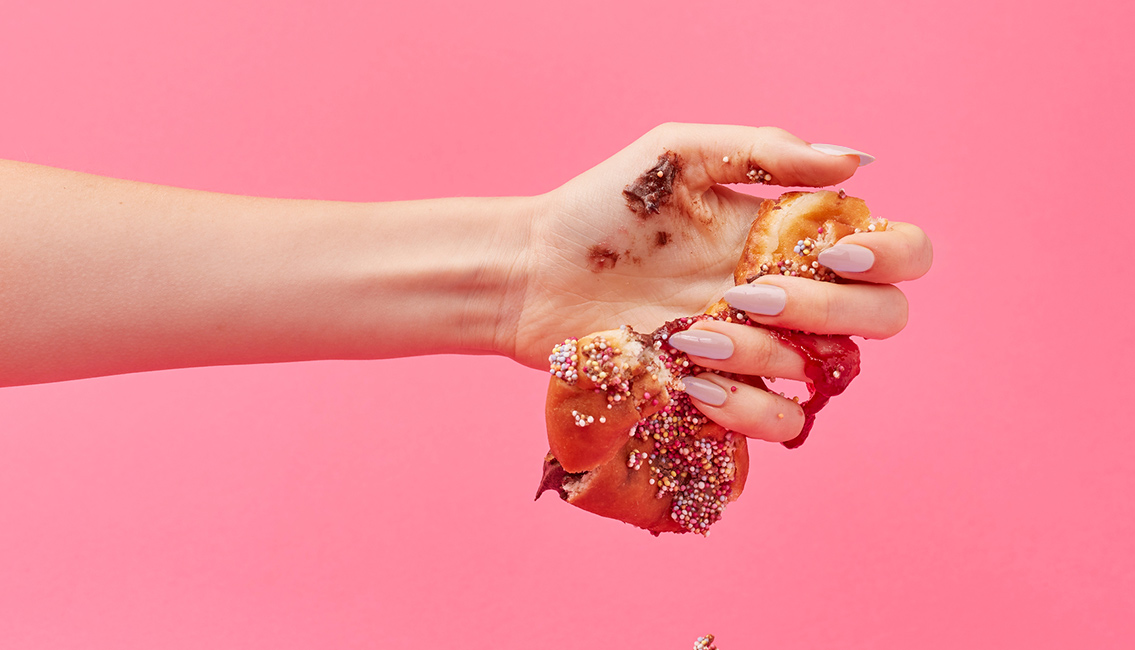 With disastrous climate change roaring back into the picture with the past year's winter freezes in Texas and food insecurity becoming more pervasive since the start of the COVID-19 pandemic, we can't ignore the impact of food waste any longer. 
According to USDA's Economic Research Service, it's estimated that between 30-40 percent of the entire food supply in the United States is wasted. To break it down, that equals a whopping 133 billion pounds and 161 billion dollars worth of food thrown out every single year in America alone. With alarming stats like that, it's never been clearer—the time to think of a holistic solution to food waste is now.
There's an app for that.
Creature of convenience? Good news—there are several new apps and services that help make combating food waste easier than ever. Innovative brands like Imperfect Foods, send bruised or "ugly" produce to your door that would have otherwise gone to waste. The Farmdrop app cuts out the middleman and connects consumers to farms that deliver fresh produce directly to their door. (Quite literally 'farm to table'!) Additionally, Flashfood and No Food Wasted alert customers to grocery store items approaching their best-before dates and sell them at a discounted rate.
Apps like Food for All eliminate last-minute restaurant food waste by offering discounted meals near closing time in Boston and New York City. In London, the Karma app offers a similar solution to food sustainability by highlighting unsold food from nearby restaurants—even including Michelin-starred ones.
On a more hyper-local level, Olio is a food sharing app that connects neighbors to swap unwanted or excess food. And in Spain, Yo No Desperdicio ("I Do Not Waste") promotes the exchange of food by posting the item to offer it up with the quantity, location and expiration date.
Community service.
Community fridges and food shares are also ways to give back and reduce waste. "We are addressing food waste by the tons," says Thadeaus Umester, founder of In Our Hearts (IOH), a New York-based network addressing food waste. IOH has gained notoriety mainly via their Instagram page where like minded individuals, primarily women of color, came together to establish community refrigerators throughout New York City — they currently help operate and stock 97 fridges and counting.
"We heard from a distribution warehouse that has a few pallets of tomatoes that are ripe and ready," Umester says of a call he regularly receives. The issue being that if the tomatoes are ready for consumption before going to a retailer, he explains, they will be thrown out. IOH helps take the food off the distribution center's hands and give it (for free) to the community via their fridges or Saturday food shares with the Food Not Bombs movement. "We are picking up a lot of slack in the food system, a lot of places where things would otherwise go to waste," he adds.
While IOH began in 2004, the first community fridge was only established in February 2020. Community refrigerators quickly became solutions not only for food waste but also food insecurity. "Every fridge is mostly empty at some point during the day," Umester says of their continual use. "We have a whole network with a few hundred volunteer drivers — they go around restocking them [with food] from nonprofits, food pantries, and different collection places." The fridges also serve a mix of people, not just those facing food scarcities. "It's not just for helping people, it's about eliminating waste," he says.
Another organization addressing food insecurity is No Kid Hungry, a non-profit committed to ending child hunger. In addition to getting meals to kids who could no longer rely on school lunches during the pandemic, No Kid Hungry offers family nutrition education programs, gives emergency grants to schools and community groups and even developed a map to help families easily find free meals for their kids.
Holistic food-saving hacks.
According to the U.S. Department of Agriculture, every American is estimated to waste more than 219 pounds of food per year.
That staggering amount could easily be reduced with simple meal planning. For example, if you were to take leftovers from your dinner and incorporate them into another meal, that's food that bypasses the landfills. A key factor is that there's no shortage of food. "We just need to reorganize our food system so we don't have it going to waste," Umester notes of his calling to "rescue food."
Another holistic solution to food waste? Composting. Conscious Cleanup Services' cofounder Jonna Roe was stressed out by the immense food waste working in the entertainment industry as a television producer. She realized that she could make a difference at work and started a composting company alongside her wife, Mia. Her slogan? "Know before you throw." "What I like about composting is that the end product ultimately adds nutrients to the earth," Roe says. Today, Conscious Cleanup Services offers compost bins to Los Angeles residences as well as production companies. The full bins are piled up and taken to a composter that takes meat, fish, dairy, fruit and vegetable waste, located on an organic farm in Fillmore, California. Most recently, Roe has started offering PPE recycling services, which she learned was in high demand from production companies.
"When you compost food it's one of the easiest things you could do to combat climate change," Roe adds of the added benefit. "The nutrients in the soil from composting make it possible to grow trees and plants which sequester carbon." Additionally, keeping waste out of landfills limits greenhouse gases and the use of garbage bags. Umester adds of the impact of food waste on our environment: "We're using all these resources to grow and transport food thousands of miles—that's using fossil fuels that are polluting the air and causing climate change."
Whether it's taking simple steps like meal prepping, composting, downloading a food sharing app or even contributing to a community refrigerator, one thing is clear—it's high time we all start tackling food waste here and now, before it's too late.
Murad is Partnering with No Kid Hungry, the only national campaign committed to ending childhood hunger in the U.S., to provide up to 1 million meals for kids in need over the course of this year through donations, fundraising events and more. ($1 can provide up to 10 meals; meal equivalency varies during COVID-19 relief, learn more here.) With this official partnership, we're reaching one of the most stressed segments in our communities – families struggling with food insecurity – to alleviate this stressor and work toward Dr. Murad's lifelong commitment of helping people live happier, healthier lives. In 2020, we helped provide up to 1.5 million meals – join us in continuing our purpose here!