The Mindfulness Menu x Well Connected: Why this inspiring ceramicist eats local, shops small and stresses about food waste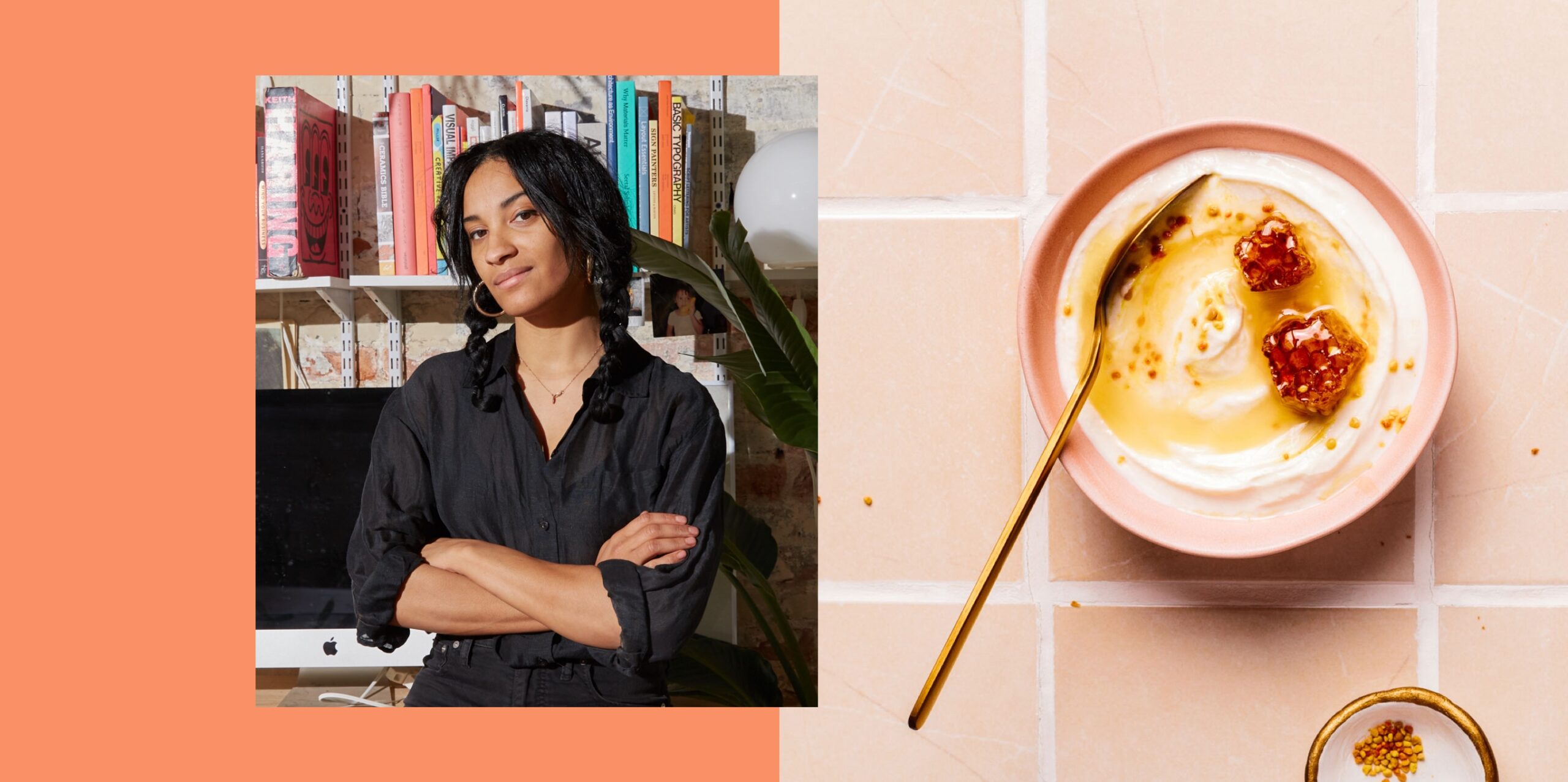 If I had to label my eating style, I'd say intuitive eating is my approach. I have a heavy plant-based diet with lots of seeds, nuts, fruit and veggies, but I also pride myself in trying anything once. I love supporting the natural food store, Outpost, in my neighborhood. It's a vibrant environment with quality products and the vibe is way nicer than a big chain grocery store. 
The pandemic made me more experimental in the kitchen—I surprisingly discovered a lot of recipes that I love. But I also order takeout a fair amount to support local restaurants, like Cafe India—I'm obsessed with their coconut curry. Being a small business owner, I understand the struggle and was worried about my favorite places closing and people losing their jobs. I like to make my dollars count for things I care about. 
Breakfast.
I wake up early feeling dehydrated, so the first thing I do is drink a big glass of water. Next up is my coffee, which I made with my Chemex. I take it with just a little cream, and it's perfect. 
I hate wasting food, so I use whatever's left in my kitchen to make breakfast. It's usually a smoothie, Icelandic yogurt or avocado toast—or I'll make a banana bread if I have bananas I need to use up. Right now, I'm going through a yogurt phase, so I had that with berries, hemp and chia seeds sprinkled on top. 
I don't like rushing in the mornings, so after breakfast I took some time to finish my coffee and catch up on emails and paperwork before heading into the studio. 
LaCroix break.
The only thing I consume between breakfast and lunch is sparkling water, specifically LaCroix. It gets me through the day and keeps me hydrated, since it can get really hot behind the pottery wheel. LaCroix flavors can be polarizing, (coconut, anyone?) but I keep it simple with lime or berry. 
Lunch.
Since the thought of wasting food stresses me out so much, lunch is often leftovers. Today it's Thai chicken lettuce wraps from last night's dinner. It's one of my go-to easy, quick meals: Hoisin chicken on a bed of rice, wrapped in romaine lettuce leaves, all topped with green onions and sesame seeds. The blend of protein, veggies and carbs keeps me going all day without putting me in a food coma, like pasta or pizza would.
Snack.
I keep the studio stocked with healthy snacks like mixed nuts and popcorn. Sometimes I'll get candy from the health food store, the kind that uses honey and agave instead of sugar. But today it's my favorite snack: tortilla chips and guac, and those can be any brand, from anywhere. Give me all the chips! 
Dinner.
I really want to visit Japan one day, because they're so famed for their pottery and ceramics. But since I'm not traveling anywhere far-flung these days, I did the next best thing; met a friend for sushi at my neighborhood Japanese spot, Hungry Sumo. We had fried tofu balls coated in sesame seeds and a tuna and salmon combo roll. I try not to go too crazy with tuna because of the potential mercury, but I let myself have it once a week. Moderation! We also had a spicy roll with mango habanero salsa. I was skeptical at first, because I'm a purist when it comes to sushi, but this one had the perfect balance of spicy and sweet. 11/10. 
Dessert.
I'm a bona fide dessert person—as soon as I have something savory, I want something sweet. I find baking meditative, and I especially love Claire Saffitz and Molly Baz's cookbooks for dessert recipes. I baked a three-layer chocolate cake for my friend's birthday this week and had a slice leftover, so that was dessert.
Before-bed beverage.
Sometimes I'll wind down with a glass of wine or a beer, but lately I've been into these non-alcoholic, botanical elixirs from Kin. Tonight, I had the one that's specifically made for bedtime, but if I'm really have a hard time falling asleep, I'll chase that with a peppermint tea.